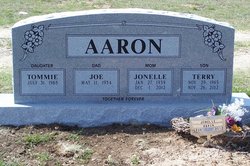 Location: X-Boyd
Born: January 27, 1939 Malone, Hill County, Texas
Died: December 1, 2012 Waco, McLennan County, Texas
Daughter of Joe Wheeler and Ada Louise Shelton Eidson
Parents:
Joe Wheeler Eidson (1902 – 1981)
Ada Louise Shelton Eidson (1913 – 2008)
Children:
Terry Aaron (1965 – 2012)
Aaron, 73, of Rock Creek, passed away Saturday, Dec. 1, at a Waco hospital. Graveside services for she and her son, Terry will be 11 a.m., Wednesday, Dec. 5, at China Spring Cemetery with the Rev. Michael Copeland officiating. Visitation with the family will be 6 to 8 p.m. Tuesday, Dec. 4, at Lake Shore Funeral home, in Waco.
Jonelle was born in Malone, Texas, to the late J.W. and Ada (Shelton) Eidson. She married Joe Aaron on December 10, 1960 in Waco. She enjoyed traveling, genealogy, and loved to cook. She adored animals.
She was preceded in death by her son, Terry Aaron on Nov. 26, 2012.
Survivors include her husband of 51 years, Joe Aaron; and daughter, Tommie Aaron, both of Rock Creek.