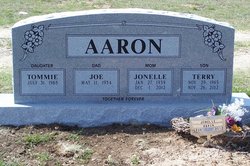 Location: X-Boyd
Born: November 29, 1965 Waco, McLennan County, Texas
Died: November 26, 2012 Waco, McLennan County, Texas
Son of Joe and Jonelle Eidson Aaron
Parents:
Jonelle Eidson Aaron (1939 – 2012)
Terry Aaron, 46, of Waco, passed away Monday, Nov. 26, 2012, at his residence. Graveside services will be 11 a.m., Wednesday, Dec. 5, at China Spring Cemetery with the Rev. Michael Copeland officiating. Visitation with the family will be 6 to 8 p.m., Tuesday, Dec. 4, at Lake Shore Funeral home, in Waco.
Terry was born in Waco, Texas, to Joe and Jonelle (Eidson) Aaron. He graduated from China Spring High School in 1984 and was also a graduate of Sul Ross University. He worked at Allergan up until his death. He liked reading and electronics.
Survivors include father, Joe Aaron; sister, Tommie Aaron; and uncle, Jack Aaron and wife, Marcelene, all of Rock Creek.