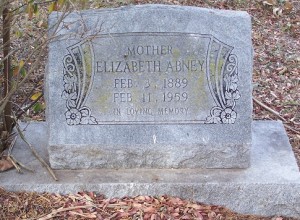 Location: J-Payne
Born: February 3, 1889 China Spring, McLennan County, Texas
Died: February 11, 1959 Waco, McLennan County, Texas
Parents:
George Washington Payne (1845 – 1927)
Annie L Motheral Payne (1861 – 1938)
Spouse:
William Houston Abney (1891 – 1929)
Children:
William Texas Abney (1914 – 1993)
Mrs. Elizabeth Abney, 70 of Waco, died Wednesday afternoon in a local hospital.
Survivors include a son, William T. Abney of Waco; daughter, Mrs. Billie Jean Blair of Gulfport, Mississippi; two brothers, Oscar Payne of China Spring and Will Payne of Waco; six sisters, Mrs. C. L. Forrest, Miss Mary Payne, Miss Coy Payne, Mrs. Birdie Cude, Mrs. A. E. Kuehn and Mrs. Leon Willis, all of Waco; 10 grandchildren.
Mrs. Abney was born at China Spring. She had lived in McLennan County all her life. She was a member of the Methodist Church of China Spring.