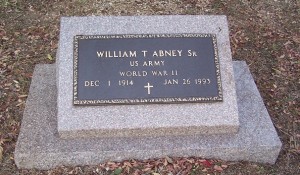 Location: J-Payne
Born: December 1, 1914 McLennan County, Texas
Died: January 26, 1993 McLennan County, Texas
Parents:
William Houston Abney (1891 – 1929)
Elizabeth Payne Abney (1889 – 1959)
Children:
Elizabeth Ann Abney (1954 – 1954)
Mary Evelyn Holt was his first wife.
W. T. Abney, 78, of Waco, died Tuesday at his residence.
Graveside services will be 11:30 a.m. today, January 29, 1993, at China Spring Cemetery, Chaplain Thomas M. Rardin officiating.
Mr. Abney was born Dec. 1, 1914 in McLennan County and attended Waco schools. He was a U.S. Army veteran of World War II and a nurse's aide at the Veteran's Administration Medical Center for several years. He was a Methodist.
Survivors include three daughters, Dena Abney and Tina Abney, both of Waco and Jean Yvonne Kelley of Dallas; four sons, William Texas Abney, Jr. of Dallas, Gerald Wayne Abney of Alta, Calif., Steven Abney of Cedar Hill and Mark Abney of Waco; sister, Billie Jean Blair of Yellville, Ark.; and several grandchildren and great-grandchildren.