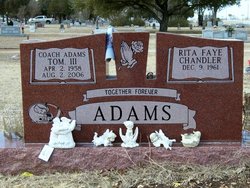 DM w/Tom. Location: W-Drahn
Born: December 9, 1961 Hollandale, Washington County, Mississippi
Died: April 18, 2010 Waco, McLennan County, Texas
Wife of Tom Adams III
Spouse:
Tom Adams (1958 – 2006)
Rita Faye Adams, 48, passed away Sunday, April 18, 2010, surrounded by her family and friends. Services will be held in her honor at 11 a.m. Friday, April 23, at OakCrest Funeral Home. Burial will be at China Spring Cemetery. Visitation will be 5 to 8 p.m. Thursday, April 22, at the funeral home.
Rita was born in Hollandale, Miss.
Preceding her in death were her loving husband, Tom Adams III, known to his family and friends as T.A.; her aunt, Henrietta; her siblings, Betty Joe and Lewis Chandler; her niece, Carrie; and nephew, Timmy.
She is survived by her daughters, Beth and Brandi Adams, of Waco; son, Branch Epperson and wife, Edna; granddaughters, Olivia, Cali, Camri, Canari, and Oaklyn, all of Waco; brothers, Albert "Bud" Chandler, Michael Wayne Chandler, and Edward Wayne Chandler; sisters, Shirley Scantling and husband, Jimbo, Rosie Stairs and husband, Mark Stairs, Johanne Chandler, and Vicky Chandler.