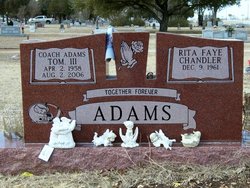 DM w/Rita Faye. Location: W-Drahn
Born: April 2, 1958 Detroit, Wayne County, Michigan
Died: August 2, 2006 Waco, McLennan County, Texas
Spouse:
Rita Faye Chandler Adams (1961 – 2010)
Tom Adams III, 48, of Waco, passed away on Wednesday, Aug. 2, 2006, at his residence. Services will be at 2 p.m. Saturday, Aug. 5, at the OakCrest Funeral Home Chapel with the Rev. Carl Willis officiating. Burial will follow in China Spring Cemetery.
Tom Adams, III was born in Detroit, Mich. to Tom and Dorothy (Kelly) Adams Jr. His father was a career Army officer and the family lived in several states in the U.S. and foreign countries, which included Michigan, Texas, Oklahoma, New York, Mississippi, Germany and Korea. Tom accepted Christ as his Savior as a young teenager at Cielo Vista Park Church in El Paso. He graduated from Eastwood High School, El Paso, and graduated from Rice University in Houston with a degree in Psychology and Physical Education. Tom married Rita Chandler, in 1992.
As a young man, Tom loved sports and fishing. He played football at Rice University on a full scholarship where he was selected a Most Valuable Player, defensive lineman two years and team captain his senior year. After graduation, he remained at Rice as a football graduate defensive assistant coach. His coaching career began at Wharton County Junior College and later included Sam Houston State, Southern Methodist University, University of Kentucky and Baylor University. Tom was a defensive coach most of his coaching career and coached several All-Conference and All-American players who went on to play in the National Football League. He coached in several NCAA Bowl games during his career. Tom was well respected and liked by both his coaches and players.
Survivors include his wife, Rita; daughters, Brandi and Dorothy (Beth), of Waco; son, Branch Epperson and wife, Edna; grandchildren, Olivia, Cali and Camri, of Frankfort, Ky.; father, Colonel Tom Adams Jr. USA Retired; mother, Dorothy M, Adams, of Lexington, Ky.; sister, Kelly Tate, of Houston; brother, John P. Adams, of Lexington, Ky.; and a host of uncles, aunts, cousins, nieces, in-laws, coaches, players and friends at Baylor and the other Universities where he coached.