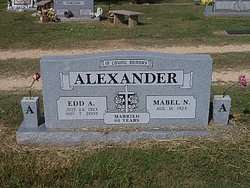 Location: W-Drahn
Born: July 26, 1923 Patton, Montgomery County, Texas
Died: November 7, 2003 Fort Worth, Tarrant County, Texas
Parents:
Edgar Augustus Alexander (1896 – 1990)
Maud Jaynes Alexander (1905 – 1989)
Spouse:
Mabel Needth Anderson Alexander (1923 – 2012)
Edgar A. "Edd" Alexander, 80, passed away Friday, November 7, 2003 at a Fort Worth nursing home.
Funeral services were held at 10 a.m. Monday at Laurel Land Chapel of Chines with burial at China Spring Cemetery in China Spring. Open visitation was Sunday at the funeral home.
Edd was born July 26, 1923, the only son of E. A. & Maude Alexander in Patton. He married Mabel Anderson on Aug. 25, 1946 in China Spring. For many years he was the owner-operator of Edd Alexander Hobby House in Fort Worth.
Survivors include his wife of 60 years, Mable; son, Eddie Alexander II and wife, Frances of Grand Prairie; grandson, Eddie Alexander IV and wife of Jennifer of Fort Worth; sister, Edith Downing of Waco; many nieces and nephews; and a host of friends.