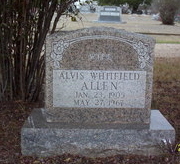 Location: I-Jackson
Born: January 23, 1905 China Spring, McLennan County, Texas
Died: May 27, 1967 Dallas, Dallas County, Texas
Parents:
Cebron William Whitfield (1862 – 1931)
Martha Jane Franklin Whitfield (1874 – 1948)
Spouse:
Ernest A Allen (1897 – 1975)
Children:
Martha Frances Allen Carter (1925 – 1987)
Mrs. Ernest Allen of 2226 Fenwick,  Dallas, formerly of Waco, died at 5:15 p.m. Saturday in Dallas.
Funeral services were at 2 p.m. Monday in Wilkirson and Hatch Chapel, burial in China Spring Cemetery, Rev. W. E. Harrell officiating.
Surviving are her husband; one daughter, Mrs. A. T. Cleveland, 1103 Linford Drive, Dallas; three sisters, Mrs. John C. Morgan of 3303 Colonial Avenue,  Mrs. W. T. Rogers of 2005 Cumberland Avenue, and Mrs. Zola Yankie of China Spring; and two grandsons.
Pallbearers: Stafford Garrett, Harry Reeves, Hugh Grayson, Vernon Jenkins, Winford Allen, Homer Gan, Frank Weaver and Raymond Weaver.
The family will be at the John C. Morgan residence at 3033 Colonial.