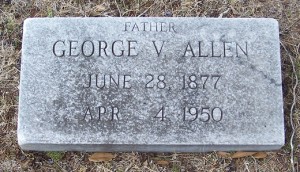 Location: R-Williams
Born: June 28, 1877 Texas
Died: April 4, 1950 Waco, McLennan County, Texas
Parents:
Henry Cyrus Allen (1844 – 1884)
Martha Sue Allen (1849 – 1935)
Spouse:
Cora Lee Morton Allen (1879 – 1939)*
Children:
Ernest A Allen (1897 – 1975)
Wallace Terry Allen (1898 – 1955)
Pearl Allen Williams (1900 – 1982)
Johnnie Martin Allen (1904 – 1960)
Ruby Allen Sapp (1906 – 1984)
Ina Opal Allen McCrary (1909 – 1998)
Lenna Mae Allen Lechler (1912 – 1977)
George Vernon Allen, 72, died Tuesday morning at China Spring.
Funeral services were held at 3:30 p.m. Wednesday at the China Spring Baptist Church, Rev. Don V. Ritchie officiating, burial in China Spring Cemetery.
Survivors; three sons, Ernest Allen, Terry Allen and Johnnie Allen all of Waco; four daughters, Mrs. Fennie Williams, Mrs. Elsie Sapp, Mrs. Roy Davis, and Mrs. Guy McCrary, all of Waco; two brothers, Clint Allen of Merkel and Lee Allen of Boyd.