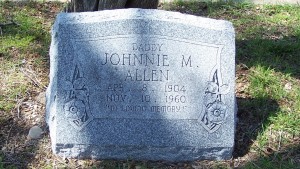 Location: J-Payne
Born: April 8, 1904 McLennan County, Texas
Died: November 10, 1960 Waco, McLennan County, Texas
Parents:
George Vernon Allen (1877 – 1950)
Cora Lee Morton Allen (1879 – 1939)
Johnnie M. Allen, 56, of Waco died Thursday morning in a local hospital.
Funeral services will be held at 4 p.m. Friday at Wilkirson and Hatch Chapel, Rev. Dr. M. L. Rhoades and Rev. Urban A. Schulze officiating, burial in China Spring Cemetery.
Survivors: his wife of Waco; son, Vernon Jay Allen of Fort Worth; brother, Ernest Allen of Waco, sisters, Mrs. Pearl Williams, Mrs. Roy Davis, Mrs. Guy McCrary and Mrs. Earl Akin, all of Waco; two grandchildren.