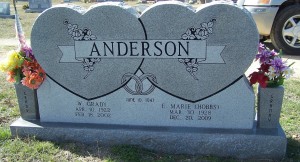 Location: X-Boyd
Born: March 30, 1928 Abilene, Taylor County, Texas
Died: December 20, 2009 Clifton, Bosque County, Texas
Parents:
Clarence Maxfield Hobbs (1910 – 1975)
Mamie Opelia Nesmith Hobbs (1910 – 1987)
Spouse:
William Grady Anderson (1922 – 2002)
Children:
Patricia Marie Altman (1949 – 2009)
Eva Marie Anderson, 81, of China Spring, Texas, and formerly of Midland, passed away Sunday, Dec. 20, 2009, Goodall-Witcher HealthCare Foundation in Clifton. Funeral services will be 2 p.m. Tuesday, Dec. 22, at First Baptist Church of China Spring, with Mike Copeland officiating. Burial will follow at China Spring Cemetery. Visitation will be 12 p.m. at the church and will continue until the service begins.
Marie was born in Abilene, Texas, to the late Clarence Hobbs and Mamie Nesmith Hobbs. She worked for the City of Midland as a secretary for over 20 years, retiring in 1986.
She was preceded in death by her husband, Grady Anderson; and a daughter, Pat Altman.
Marie is survived by her daughter, Dana Richman and husband, Jim, of Valley Mills; grandchildren, Jerry Altman and wife, Angie, of Lubbock, Sorrel Peterson and husband, Andrew, of San Antonio and Tonya Dutton and husband, Tommy, of Odessa; four great-grandchildren; sister, Margie Clements, of Odessa; numerous nieces, nephews and cousins; and her special friend, Margie Nelson, of China Spring.