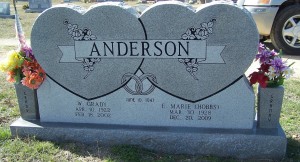 Location: X-Boyd
Born: April 10, 1922 Stamford, Jones County, Texas
Died: February 18, 2002 McLennan County, Texas
Parents:
Olie C Anderson (1895 – 1960)
Thetta Ola Cantrell Anderson (1899 – 1982)
Spouse:
Eva Marie Hobbs Anderson (1928 – 2009)*
Children:
Patricia Marie Altman (1949 – 2009)
Grady Anderson, 79, of China Spring, went to be with the Lord Monday, Feb. 18, 2002. Services will be at 2 p.m., Wednesday at First Baptist Church of China Spring with the Rev. Kevin Moore officiating. Burial will follow at China Spring Cemetery.
Mr. Anderson was born April 10, 1922 in Stamford. He served in the South Pacific under General McArthur during World War II.  Grady married Marie Hobbs of Abilene on June 10, 1947. He was a longtime resident of Midland and retired from Hargrove Automotive in 1986. In 1987 he and Marie moved to China Spring. He was a member of the First Baptist Church of China Spring. Throughout his life, Grady enjoyed traveling, fishing and hunting. He spoiled his daughters and grandchildren, doing so all through the years.
Grady was preceded in death by his parents, O.C. and Tincy Anderson.
He is survived by his wife of 54 years, Marie; daughters, Pat Altman and husband Tommy of Midland, Dana Richman and husband Jim of Valley Mills; grandchildren, Jerry Altman of Lubbock, Sorrell Richman of Waco and Tonya Altman of Midland; two great-grandchildren; sisters, Irene Franklin and Rebba Dean; brother Alfred Anderson and many nieces and nephews.
Pallbearers will be Earl Russell, Earl Anderson, Charles Hobbs, Edwin O'Bannon, Cliff Clements and Jerry Altman.