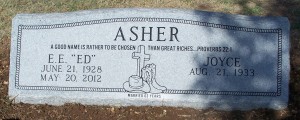 Location: W-Drahn
Born: June 21, 1928 Thornton, Limestone County, Texas
Died; May 20, 2012 Waco, McLennan County, Texas
Parents:
Walter Asher (1893 – 1965)
Claudia Ophelia Ellis Asher (1896 – 1970)
Spouse:  Edna Joyce McCarver Asher
Ed E. Asher, 83, of China Spring, passed away Sunday, May 20, 2012 at a local hospital. Services will be 10am Wednesday, May 23rd at Lake Shore Funeral Home Chapel with Rev. Mark Griffin officiating. Burial will follow at China Spring Cemetery. Visitation will be 6 to 8pm Tuesday, May 22nd at Lake Shore Funeral Home, 5201 Steinbeck Bend in Waco.
Ed was born June 21, 1928 in Thornton to Walter Mack Asher and Claudie (Ellis) Asher. Ed loved spending time with family and friends. His interests were training dogs, and breaking and training horses and mules. He owned and operated the Riding Stables in Cameron Park. He also worked for the City of Waco as a Parks Foreman for many years. He really enjoyed gathering at Griff's Restaurant with his friends.
Survivors include wife of 63 years, Joyce Asher of China Spring; daughter, Judi Morris of China Spring; son, Dennis Asher and wife Melinda of Bryan; grandchildren, James Kroll and wife Vickie, Brian Asher and wife Cheryl, and Denise Spears and husband Chad; five great granddaughters, Jamie, Kaitlyn, Hailey, Samantha, and Audrey; sister, Lillian Fitzhugh; brother, Richard Asher and wife Helen; and several nieces and nephews.
Special thanks to the doctors, nurses and attendants at Hillcrest ER Trauma Unit.