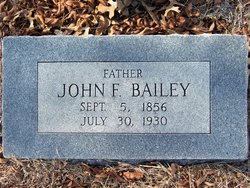 Location: K-Jay
Born: September 5, 1856 South Carolina
Died: July 30, 1930 China Spring, McLennan County, Texas
Parents:
Jordan N. Bailey (1829 – 1912)
Nancy Elvina Howell Bailey (1836 – 1917)
Spouse:
Mary Hattie McLennan Bailey (1857 – 1930)
Children:
Walter Bailey (1881 – 1940)
Clark Clemons Bailey (1883 – 1956)
Jessie Carter Bailey (1885 – 1952)
Gent Cleveland Bailey (1888 – 1912)
Oscar Looney Bailey (1891 – 1958)
Last rites for John F. Bailey, 72, who died at his home in Speegleville at 2 p.m. Wednesday were held from the cemetery at China Spring Thursday morning at 11 o'clock with Rev. Mr. Simpson of China Spring officiating. Compton's were in charge of the body.
Mr. Bailey is survived by four sons; Walter, Jesse, Clark and Oscar, all of Speegleville.
Mr. Bailey had lived in McLennan County for the past 31 years and for a greater portion of that time was engaged in farming. He came to this county from Georgia.