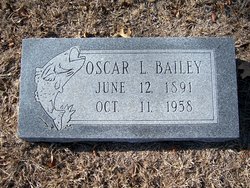 Location: K-Jay
Born: June 12, 1891 Georgia
Died: October 11, 1958 Clifton, Bosque County,  Texas
Parents:
John Franklin Bailey (1856 – 1930)
Mary Hattie McLennan Bailey (1857 – 1930)
Children:
Opal G Bailey Smith (1928 – 2002)
Funeral services for Oscar L. Bailey, 67, of Clifton, who died in a Clifton hospital at 11 a.m. Sunday, were at 2 p.m. today at China Spring Baptist Church, Rev. R. H. Dilday, Jr. officiating, assisted by Rev. Earl Vanderford, burial in China Spring Cemetery.
Mr. Bailey was born in Georgia and had lived in Clifton about eight years. He was a retired farmer and member of the Baptist Church.
Survivors are his widow, Annie Lee Brook Bailey; three sons, Joe Bailey of Akron, Ohio, Oscar L. Bailey and Leslie S. Bailey, both of Waco; three daughters, Mrs. Chris (Artense) Welch of Waco, Mrs. Ray Hajeck of Midland and Mrs. Martin (Opal) Smith of Clifton; 21 grandchildren and six great-grandchildren.