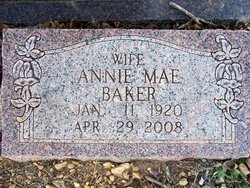 Location: T-Carpenter
Born: January 11, 1920 China Spring, McLennan County, Texas
Died: April 29, 2008 Clifton, Bosque County, Texas
Parents:
John Cole Helm (1872 – 1949)
Rachel Florence Yates Helm (1877 – 1956)
Spouse:
Charles Samuel Baker (1916 – 1991)
Children:
Glenda Faye Baker Carpenter (1938 – 1979)
Annie Mae Baker, 88, of Aquilla, passed away Tuesday, April 29, 2008, in Clifton. Graveside services will be 10 a.m. Friday at China Spring Cemetery. The family will receive visitors 6 to 8 p.m. Thursday at Aderhold Funeral Home in West.
Annie was born in China Spring, Texas, to the late John and Rachael (Yates) Helm. She attended China Spring schools and on December 11, 1937, she was united in marriage to Charles Samuel "Sam" Baker in Valley Mills. She was a housewife and also worked as a waitress for the original Elite Café and Sprayberry Purse Factory in Laguna Park over four years. She enjoyed playing dominoes, fishing, camping, and spending time with her family. Annie also made the best homemade biscuits every day. She was a member of Smith Bend Baptist Church, where she taught Sunday School for many years.
She was preceded in death by her husband on June 14, 1991; great-grandson, Justin Charles Baker; daughter, Glenda Fay Carpenter; brothers, Edward Helm, Perry Helm, Raymond Helm, John Helm, Jr., and Earl Helm; and sisters, Beatrice Place, Nola Marshall, and Hester Helm.
Survivors include son, Charles R. Baker and wife, Darlene, of Winston, New Mexico; daughter, Eddie Lois Rape and husband, Kenneth, of Aquilla, grandchildren, Donna Williams, Darrell Carpenter, Bobby Don Carpenter, Tammie Charlene Kennedy, William Charles Baker, Melissa Ann Matus, Alice Fay Shilling, and Kenneth Ray Rape; seventeen great-grandchildren; four great-great-grandchildren; sister-in-law, Novella "Aunt Sallie" Dockray; several nieces, nephews, other relatives, and friends.