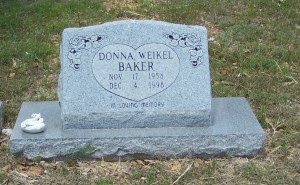 Location: V-Eichelberger
Born: November 17, 1958 Waco, McLennan County, Texas
Died: December 4, 1998 Waco, McLennan County, Texas
Daughter of Clarence Henry Weikel and Leona Greger Weikel
Parents:
Clarence Henry Weikel (1915 – 2005)
Leona Greger Weikel (1918 – 2009)
Children:
Jennifer Lynn Baker (1950 – 2002)
Donna Marie Baker, 40, of Waco died Friday, Dec. 4 at her home. Graveside services will be 2 p.m. Sunday at China Spring Cemetery with Dr. John C. Collier officiating. Rosary will be recited 7 p.m. Saturday at Brookview Funeral Home Chapel with Monsignor Derring officiating. Visitation to follow Rosary.
Donna Baker was born Nov. 17, 1958 in Waco. She graduated from China Spring High School. She attended McLennan Community College and 4C College and attended St. Louis Catholic Church and Parkview Baptist Church.
She is survived by her parents, Clarence and Leona Weikel of Waco; two daughters, Jennifer Lynn Baker and Crystal Marie Baker of Waco; a sister, Brenda Winfield and her husband Chuck of Pasadena; a brother, Larry Weikel and his wife Tracy of Cisco; and several nieces and nephews.
Memorials may be made to the American Diabetes Association.