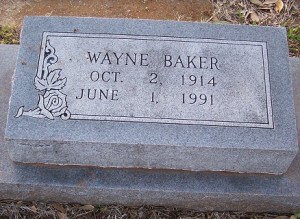 Location: T-Carpenter
Born: October 2, 1914 China Spring, McLennan County, Texas
Died: June 1, 1991 Valley Mills, Bosque County, Texas
Parents:
Richard Buford Baker (1888 – 1970)
Leora Lillian McCrary Baker (1892 – 1968)
Spouse:
Virginia Margaret McBride Baker (1920 – 1988)
Wayne Baker, a retired Central Forwarding, Inc. employee, died Saturday at a Valley Mills nursing home. he was 76.
Graveside services will be at 2:30 p.m. Tuesday at China Spring Cemetery, the Rev. Randy A. Hughes officiating.
Mr. Baker was born October 2, 1914, in China Spring, where he attended school. He married Virginia McBride in 1965; she died in 1978.
Mr. Baker worked for Central Forwarding, Inc. for 25 years before he retired in 1976. He was an Army veteran and a Baptist.
Survivors include a son, Douglas DeWayne Baker of Angleton; sister, Novelle Dockray of Valley Mills; brother, Charles Sam Baker of Aquilla; four grandchildren; and a great-grandchild.