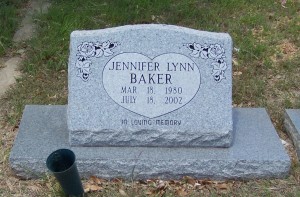 Location: V-Eichelberger
Born: March 18, 1980 Waco, McLennan County, Texas
Died: July 13, 2002 Waco,McLennan County, Texas
Daughter of Brent Lee and Donna Marie Weikel Baker
Parents:
Donna Weikel Baker (1859 – 1998)
Jennifer Lynn Baker, 22, died Thursday July 18, 2002 in an accident.
Services will be at 3 p.m. Saturday, July 20 at Connally Compton Funeral Home Chapel with Dr. John Collier officiating. Burial will be at China Spring Cemetery.
Jennifer was born March 18, 1980, to Brent Lee and Donna Marie Weikel Baker in Waco. She graduated from Parkview Christian Academy and was employed by Elmwood Nursing Home in Marlin as a certified nursing assistant. She was preceded in death by her mother, Donna Weikel Baker.
She is survived by a daughter, Alexis Nicole; father, Brent Lee and wife Judith Baker of Waco; sister, Crystal Marie Baker of Marlin; grandparents, Clarence and Leona Weikel of Waco and Melvin and Betty Baker of Marlin.