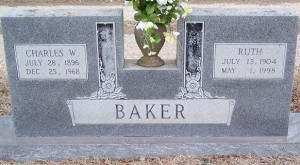 Location: K-Jay
Born: July 13, 1904 Valley Mills, Bosque County, Texas
Died: May 1, 1998 Valley Mills, Bosque County, Texas
Parents:
Harrison Monroe Judkins (1867 – 1936)
Julia Ann Holt Judkins (1882 – 1968)
Spouse:
Charles W Baker (1896 – 1968)
Ruth Baker, 93, of China Spring died Friday at a Valley Mills nursing home.
Services will be 2 p.m. Sunday at First United Methodist Church with the Rev. Bill Patterson and the Rev. Matt Hall officiating. Burial will be at China Spring Cemetery.
Mrs. Baker was born on July 13, 1904 in Valley Mills. She married Charles W. Baker on May 1, 1925 in Mosheim. She was a homemaker. She was a longtime member and Sunday School teacher at China Spring Methodist Church.
She was preceded in death by her husband in 1968.
Survivors include two daughters, Jo Ann Weaver of China Spring and Agatha Poe of Wortham; son, Bob Baker of China Spring; eight grandchildren; five great-grandchildren; and three step-grandchildren.