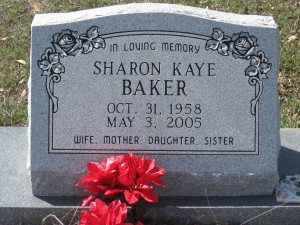 Location: V-Eichelberger
Born: October 31, 1958 Houston, Harris County, Texas
Died: May 3, 2005 Waco, McLennan County, Texas
Daughter of David Henry Arnold and Janette Busby Arnold
Spouse: Rick Baker
Sharon Kaye Baker, 46, of Waco, peacefully passed away on Tuesday, May 3, 2005, at her residence. Graveside services will be at 11:00 a.m. Saturday at China Spring Cemetery with Pastor Jack Neima officiating. Visitation with her family will be from 6 to 9 p.m. Friday at OakCrest Funeral Home, 4520 Bosque. A memorial DVD of her life will be shown during the visitation.
Sharon was born on Oct. 31, 1958 in Houston, the only girl of five children, to Dave and Janette Busby Arnold.
She was preceded in death by her parents; and a brother, Paul Arnold.
She is survived by her husband, Rick Baker; daughters, Jennifer Crow and her husband Casey, Jessica Grizzle, Linda Scruggs, and Ashley Baker; grandchildren, Jacob and Caitlin Crow, Collin, Sharon Rose and Carter Grizzle and Daniel Hayes; brothers, David Arnold, Joe Arnold and Richard Arnold.
We thank God for letting us have her for a short time. She was a wonderful wife, mother and person. She will be missed very much. As her mother always quoted after a loved one's passing, "Next year in Jerusalem."
The family would like to extend thanks to their family and friends who supported us, Hillcrest Hospice, Dr. Lawrence Canning, and Dr. Stephen Rydzak.