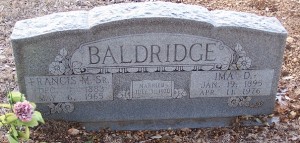 Location: U-Baker
Born: December 3, 1883 Texas
Died: May 6, 1965 Waco, McLennan County, Texas
Parents:
Nancy Jane Abbott Baldridge (1865 – 1941)
Spouse:
Ima D Chambless Baldridge (1895 – 1976)
Children:
Francis Marion Baldridge (1921 – 1995)
F. M. (Frank) Baldridge, Sr., 81, of 1708 N. 7th St. died in a Waco hospital at 4:45 p.m. Thursday.
Funeral services will be at 2:30 p.m. Saturday in Connally Chapel. Rev. A.M. Stone will officiate. Burial will be in China Spring Cemetery.
Survivors include his wife, Mrs. Ima Baldridge; son, F. M. Baldridge, Jr.; a brother, G. O. Baldridge of Killeen; two grandchildren.
Active pallbearers: W. A. Tabordino, Melvin Rodgers, George Baker, Jr., E. M. Burleson, C.H. Kophal, and Harold Haught.
The family will be at 3720 Trice Ave.