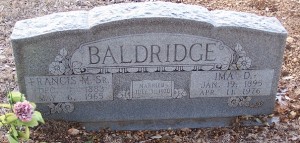 Location: U-Baker
Born: January 19, 1895 Bremond, Robertson County, Texas
Died: April 11, 1976 Waco, McLennan County, Texas
Parents:
Dayton Chambless (1895 – 1929)
Molly Frances Brown Chambless (1867 – 1946)
Spouse:
Francis Marion Baldridge (1883 – 1965)
Children:
Francis Marion Baldridge (1921 – 1995)
Mrs. F. M. (Ima) Baldridge, Sr.,81, of 3720 Trice, died at 2:30 p.m. Sunday in a local nursing home.
Funeral services: 2:30 p.m. Tuesday at Connally-Compton (West) Chapel, burial in China Spring Cemetery.
Mrs. Baldridge was born in Bremond and had lived in Waco for 62 years. She was a member of North Waco Baptist Church.
Survivors include one son, F. M. (Frank) Baldridge of 3720 Trice; one sister, Mrs. George T. Baker of 1625 Cumberland; one brother, Judson Chambless of Houston; and two great-grandchildren.