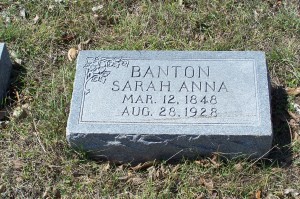 Location: K-Jay
Born: March 12, 1848 Arkansas
Died: August 28, 1928 McLennan County, Texas
Daughter of Jacob Crowson and Nancy Threewitt Crowson
First husband was R. L. Crawford, father of Richard Lorahn Crawford and William G. Crawford.
Second husband was Benjamin Selman, father of Anna Olevia Baker. They married in 1870.
Third husband was William J. Banton. Married in 1873.
Spouses:
Benjamin Selman (1795 – 1873)
William J Banton (1845 – ____)*
Children:
William G Crawford (1866 – 1927)
Richard Lorahn Crawford (1868 – 1951)
Anna Olevia Bell Selman Baker (1870 – 1928)
Funeral services for Mrs. Sarah A. Banton, 80, who died at the home of her son, R. L. Crawford of China Spring Monday evening will be held this afternoon at 4 o'clock from the China Spring Baptist Church. Rev. M. L. Rhodes will officiate at the services with interment at the China Spring Cemetery.
The deceased is survived by one son, R. L. Crawford.