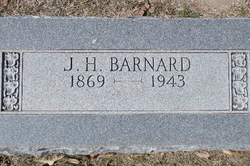 Location: L-Roberts
Born: March 28, 1869 Alabama
Died: January 19, 1943 China Spring, McLennan County, Texas
Spouse:
Minnie Lee Lantrip Barnard (1879 – 1944)
J. H. Barnard, 73, died at 1:30 a.m. Tuesday at China Spring. Funeral services will be held at 2:30 p.m. Wednesday at China Spring Baptist Church, Rev. C. B. Harper pastor of China Spring Baptist Church officiating.
Surviving is the widow, Mrs. Minnie Barnard.
Active pallbearers: L.O. Davis, T. W. Davis, Johnny DeHay, Euell Johson, Buddy Thomas and Charlie Hicks.
Honorary pallbearers: James Hulm, Henry F. Ledenham, C.V. Allen, Eliza Null, Clyde Albert and Sam Talbert.