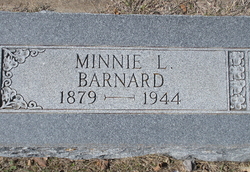 Location: L-Roberts
Born: July 1879 Texas
Died: June 28, 1944 McLennan County, Texas
Parents:
Thomas Wesley Lantrip (1852 – 1910)
Anna E. York Lantrip (1853 – 1901)
Spouse:
James Henry Barnard (1869 – 1943)
Mrs. Minnie Lee Barnard, 65, died at 11:20 a.m. Wednesday at her home in Waco.
Funeral services will be held at the Baptist church in China Spring on Thursday afternoon, Rev. Mr. Harper and Rev. H. V. Baird officiating, burial in China Spring Cemetery.
Survivors: Two brothers, T. W. Lantrip of Waco and G.D. Lantrip of Rock Creek; three sisters, Mrs. A. C. Hughes of Camerson, Mrs. Mannie Osborn of Fort Worth and Mrs. Mattie Robinson of Waxahachie.
Pallbearers: Bob Parker, Wayland Hughes, Thomas Lantrip, Virgil Smith, Willie Ditto and C.O. Talbert.