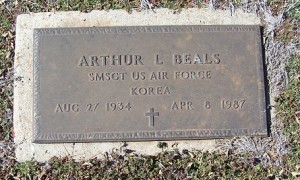 Location: G-Ferguson
Born: August 27, 1934 Texas
Died: April 8, 1987 Sacrament0, Sacramento County, California
Son of Charlie Beals and Mary Smith Beals
Arthur L. Beals, 52, a retired Air Force Senior Master Sgt. of Sacremento, died Wednesday in Sacremento.
Graveside services will be 10 a.m. Monday at China Spring Cemetery, the Rev. Paul Taft officiating, followed by full military services.
Mr. Beals was born Aug. 27, 1934, in Texas. He served in the Air Force for 23 years and retired in 1975.
Survivors include his wife, Nell Dyer Beals; his mother, Mary Smith Schlottman of China Spring; son, Rusty Beals of Waco; and two grandchildren.