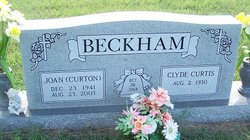 Born: August 2, 1930 Manor, Travis County, Texas
Died: September 10, 2014 Waco, McLennan County, Texas
Parents:
Herman Dock Beckham (1903 – 2000)
Hattie Leary Sloan Beckham (1903 – 1976)
Spouse:
Joan Curton Beckham (1941 – 2003)
Clyde Curtis Beckham passed away Wednesday, September 10th in a local hospital. Graveside services Saturday, September 13th, 4pm at China Spring Cemetery.
Clyde was born August 2, 1930 in Manor, Texas to Herman and Hattie (Sloan) Beckham. He grew up in Manor and attended Cottonwood and Pflugerville schools prior to joining the U.S. Army. During his glory days, he was a member of the Pflugerville High School football team which set both a state and national record by winning 55 consecutive games from 1958 until 1962.
On October 26, 1968, he was united in marriage to Joan Curton in Waco, Texas.
He worked for many years at General Tire and Rubber Company in Waco before retiring in the late 1980's after 30 years of service. He was a member of Waco Masonic Lodge 92, Scottish Rite, American Legion Post 121 and Karem Temple Shrine which included horse patrol. He also worked security at the Texas Ranger Hall of Fame during his retirement years. He was a devoted father who loved attending his children and grandchildren's many events.
Curtis was preceded in death by his loving wife, Joan; and parents, Herman and Hattie Beckham of Austin.
Survivors include his daughter, Stacy Schmitt and husband Chris of Round Rock; son, Cory Beckham and wife, Kandace of Ross; son, Gilby Beckham and wife, Donna of West; grandchildren, Hailey and Hannah Schmitt; Braylee and Cayden Beckham; sisters, Peggy Strahm of Kansas; Bertie Ruth Sherrod of California; and Billie Borders of Oklahoma.