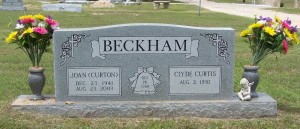 Location: M-Harris
Born: December 23, 1941 Waco, McLennan County, Texas
Died: August 23, 2003 China Spring, McLennan County, Texas
Parents:
James William Curton (1912 – 1998)
Cora Leonta Williams Curton (1915 – 1981)
Spouse:
Clyde Curtis Beckham (1930 – ____)
Joan Beckham, beloved wife, mother, grandmother, and friend, went to join the Lord on Saturday, Aug. 23, after a courageous and hard fought battle against cancer. Services will be held at 10:30 a.m., Tuesday, August 26 at the OakCrest Funeral Home chapel with Rev. G. Allen Grant and Rev. Billy Mac Patterson officiating. The family will receive visitors from 6 to 8 p.m., Monday, Aug. 24 at OakCrest Funeral Home. A memorial videotape honoring Joan's life will be shown continously during the visitation.
Joan was born to J.W. and Leonta Curton on December 23, 1941 in Waco. She married Clyde C. Beckham on October 27, 1968. She graduated from Waco High in1960 and was in the banking industry for many years until her retirement from Extraco Bank. She was a member of the American Business Women's Association Huaco Chapter, and was the 2001 Business Woman of the Year. She was a very involved mother in her children and other children's lives. She served on the China Spring Youth Association Board for 13 years and loved attending sporting events. She was a member of the China Spring United Methodist Church. She was also a volunteer for the American Cancer Society.
She was preceded indeath by her parents and her infant sister, Bertha Jean Curton.
Survivors includes her husband of 34 years, Clyde C. Beckham of China Spring; daughter, Stacy Schmitt and husband Chris of Lorena; two sons, Cory Beckham of Waco and Gilby Beckham and wife Donna of West; her pride and joy, granddaughter Hailey Schmitt of Lorena; uncle, Duncan Curton of Stephenville; sister, Betty Hardy of China Spring; and many close friends.
Joan will be remembered by many for her courage and strong sense of pride for her family.
Pallbearers will be Thad Barker, Mike Fanning, Tony Kubacak, Johnny Mankin, Jimmy Morgan, Alan Morris, Dale Morris and Alan Rieger. Honorary pallbearers will be Bob Nixon and Wayne West.
In lieu of flowers, memorials may be made to the American Cancer Society, China Spring United Methodist Church or the China Spring Youth Association.