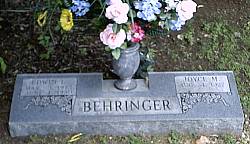 Location: A-Talbert
March 3, 1914 McLennan County, Texas
Died: June 1, 1980 China Spring, McLennan County, Texas
Parents:
William Christian Behringer (1875 – 1962)
Mary Elizabeth Cauthen Behringer (1879 – 1961)
Spouse:
Joyce Mae Nelson Behringer (1927 – 2003)
Waco Tribune Herald, 3 June 1980, p. 13A –
Edwin Lee Behringer, 56, of Rt. 2, Valley Mills, died at 5:40 am Sunday. in a Waco hospital.
Graveside services: 2 pm Tuesday, at the China Springs Cemetery.
Survivors: wife, Mrs. Joyce Behringer; son: Steven Behringer of Valley Mills; daughter: Jenie Lee Behringer-Waco; 5 brothers,  E. Buddy, H.H., J. G., R. A. & Fred M. Behringer, all of Waco; sister: Minnie Wallace-Temple.