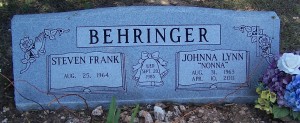 Location: A-Talbert
Born: August 31, 1963 Waco, McLennan County, Texas
Died: April 10, 2011 Dallas, Dallas County, Texas
Daughter of Weldon Martin and Aline Youngblood Martin
Johnna Lynn Behringer, 48, of Waco, passed away Sunday, April 10, 2011, in a Dallas hospital. Graveside services will be 11 a.m. Tuesday, April 12, at China Spring Cemetery with the Rev. Cary Killough officiating. Visitation will be 6 to 8 p.m. Monday at OakCrest Funeral Home.
Johnna was born in Waco, Texas, to Weldon Martin and Aline Youngblood-Martin. She graduated from China Spring High School in 1982 and later married Steven Behringer in 1985. Their marriage endured many hardships through her illness, but Steven never left her side and their love never wavered. They had the kind of relationship that others could only hope for. On June 19, 1990, Johnna's dreams came true as she became a mother to Stephen Austin, whom she and Steve fondly dubbed "Pod". It is quite easy to see that he is her greatest accomplishment.
Johnna was preceded in death by her father, Weldon.
She is survived by her husband, Steven; son, Austin Behringer, both of Waco; mother, Aline and husband, George Brooks; brothers, Doug Martin and wife, Nancy, of North Carolina and Donald Martin and wife, Jan, of Katy, Texas; and numerous nieces, nephews, cousins, and an extraordinary group of close friends who will dearly miss her.