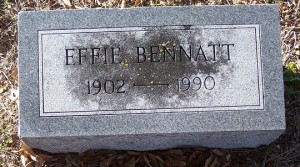 Location: J-Payne
Born: November 2, 1902 Erath, McLennan County, Texas
Died: November 8, 1990 Waco, McLennan County, Texas
Spouse:
Robert Kendrick Bennatt (1900 – 1952)
Children:
Robbie Bennatt McGuffin (1928 – 1996)
Mrs. Effie Bennatt, 88, of Waco died Thursday in a local nursing home.
Graveside services will be 11:30 a.m. Saturday at China Spring Cemetery, the Rev. Woody Flynt officiating.
Mrs. Bennatt was born Nov. 2, 1902 in Erath and married Robert K. Bennatt , Oct. 8, 1927; he died in September 1951. She was a member of Robinson Drive United Methodist Church and was active in Wesleyan Service Guild and United Methodist Women.
Survivors include a daughter, Robbie McGuffin of Waco and several nieces, nephews and cousins.