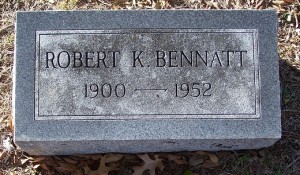 Location: J-Payne
Born: Jan. 26, 1900 Texas
Died: Sep. 1, 1952 Waco, McLennan County, Texas
son of Leonard Groce Bennatt and Helen Elizabeth Wilson Bennatt
Parents:
Leonard G. Bennatt (1858 – 1928)
Helen Elizabeth Bennatt (1862 – 1962)
Spouse:
Effie Davis Bennatt (1902 – 1990)
Children:
Robbie Bennatt McGuffin (1928 – 1996)
Funeral services for Robert Kendrick Bennatt, 52-year old resident of Waco for the past 27 years, were held at 2 p.m. today at Wesley Methodist church with Rev. T. S. Ogle officiating, burial in China Spring Cemetery.
Mr. Bennatt died at 4:30 a.m. Monday at his home at 1024 North Eleventh Street.
Survivors include his widow; one daughter, Mrs. A. H. McGriffin of Waco; his mother, Mrs. Helon Bennatt of Waco; two brothers, B. G. Bennatt of Edna, Charles Bennatt of Fort Worth; four sisters, Mrs. William Goddard of Waco, Mrs. Addie Washam of Glendale, Calif., Mrs. N. F. James of Dallas and Mrs. Fred Wallace of Waco.