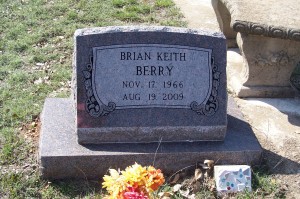 Location: V-Eichelberger
Born: November 17, 1966 Waco, McLennan County, Texas
Died: August 19, 2009 Austin, Travis County, Texas
Son of George W. Berry, Jr. and Janice Lindsay Berry (now Fadal)
Brian Keith Berry, formerly of Waco, died peacefully in his sleep on Wednesday, Aug. 19, 2009, at his home in Austin. A casual graveside service will be 3 p.m. Monday, Aug. 24, at China Spring Cemetery. Visitation will be 6 to 8 p.m. Sunday, Aug. 23, at Wilkirson-Hatch-Bailey Garden Room.
Brian was born in Waco, Texas, and graduated from Richfield High School in 1985, later obtaining an AAS degree from Texas State Technical College (TSTC) in Medical Imaging Systems. During his years in Austin, Brian held several sales positions, winning a number of prestigious performance awards. In 2008 he joined the Texas Facilities Commission serving on the Facilities Design and Construction Team. Being outdoors brought great happiness to Brian. Whether it be camping in the Hill Country, playing a round of disc golf, swimming at Barton Springs, relaxing at a backyard barbeque, enjoying live music, or mountain biking with his younger brother in Austin's greenbelt, the outdoors was his home. Brian treasured time with his friends and family, and he was a devoted father to his beloved daughters, Madison and Natalie. We will miss his sweet and easy smile.
Brian was preceded in death by maternal great-grandparents, Rex and Clella Lindsay; paternal grandparents, Travis and Margaret Christopherson; maternal grandfather, Jim Lindsay; and an uncle, Jeffrey Rex Lindsay.
Brian is survived by his daughters, Madison Leigh Berry and Natalie Kay Berry; mother and step-father, Janice Fadal and husband, Dr. Robert Fadal; brother, Brady L. Berry and wife, Andrea; maternal grandmother, Pat Lindsay; aunts, Diane Christopherson, Debbie Schuetz; and an uncle, Doug Christopherson.