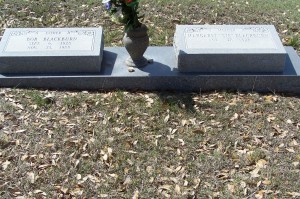 Location: U-Baker
Born: September 6, 1928 Hobart, Kiowa County, Oklahoma
Died: November 23, 1988 Waco, McLennan County, Texas
Son of Wayne and Rose J. Blackburn
Spouse:
Margaret Juanita Ditto Blackburn (1928 – ____)
Graveside services for Bob Blackburn, 60 of Waco will be at 2:30 p.m. today (Friday, Nov. 25, 1988) at China Spring Cemetery. Chaplain Curtis Holland officiating.
Mr. Blackburn died Wednesday at his residence. He was born in Hobart, OK where he attended schools. He moved to the Waco area in 1965. He was married to Margaret (Sis) Ditto Crawford August 23, 1968. He was a maintenance foreman at General Tire and Rubber Co. for several years, retiring in March 1986. He was a Baptist.
Survivors include his wife; two daughters, Shirley Veselka of Grand Prairie and Sharon Cline of Dimmitt; a step-daughter, Cecilia Crawford of Waco; a step-son, Billy Keith Crawford of Waco; a sister, Mrs. Wayne (Jo Ann) Spies of Fort Cobb, OK; and five grandchildren.