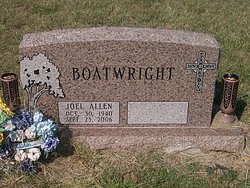 Location: W-Drahn
Born: October 30, 1940 Shreveport, Caddo Parish, Louisiana
Died: September 23, 2006 China Spring, McLennan County, Texas
Parents:
Joel William Boatwright (1905 – 1962)
Helen Augusta Schattner Boatwright (1905 – 1979)
Joel Allen Boatwright, 65, of China Spring, Texas, passed away Saturday, Sept. 23, 2006, at a local hospice care center. Services are scheduled for 11:30 a.m. Tuesday, Sept. 26, 2006, at China Spring United Methodist Church with Pastor Allen Grant officiating. Burial will follow at China Spring Cemetery.
Joel was born in Shreveport, La., to the late Joel and Helen Boatwright. He graduated from Waco High School in 1958, and attended Texas A & M before beginning a 30 year career with NCR Corp. in 1969. In 1993, he began his own computer business, Joel Boatwright Electronics. He was an active member and trustee of CSUMC and was treasurer at the local Lions Club for many years. He also enjoyed flying small planes.
Joel is survived by his wife, Carolyn Boatwright, of China Spring; children, Kyle Boatwright and his wife, Tina, of Gatesville, Texas, and Cassie Boatwright, of Canyon Lake, Texas; three grandchildren; and sister, Mary Joann (Mary Jo) Carroll, of Havre De Grace, Maryland.