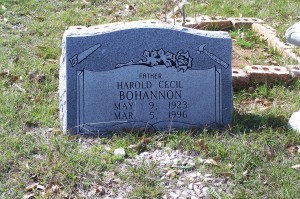 Location: V-Eichelberger
Born: May 9, 1923 Missouri
Died: March 5, 1996 Waco, McLennan County, Texas
Children:
Linda Jean Bohannon (1954 – 2000)
Son of Gladstone Carp Bohannon
Harold C. Bohannon, age 72, of China Spring, Tx., died Tuesday in a Waco hospital.  Funeral services will  be 2 p.m. Thursday at the First Bapist Church in Valley Mills, with Rev. W. R. Parmer officiating.  Burial will be in the China Spring Cemetery.
Mr. Bohannon was born May 9, 1923, in Missouri. He was married to Ina Louise Hahn in 1943 in Missouri.  She preceded him in death in 1993.  He was a WWII Army Veteran, and a retired carpenter.  He had lived in the Waco-China Spring area since 1967.
Survivors include 7 sons, Robert Bohannon of Valley Mills, Gary Bohannon of Humble, Kevin Bohannon and Harold David Bohannon, both of China Spring, James Jeffrey Bohannon of Bosqueville, and Paul Gladston Bohannon and Jesse Bohannon, both of Lorena; 3 daughters, Sherry Walls of Missouri, Linda Hickman of Valley Mills and Ina Darlene Bohannon of Missouri; 24 grandchildren and 5 great-grandchildren.
Pallbearers: Mike Bohannon, Bobby Bohannon, Jason Bohannon, Harold David Bohannon, Jr., Chris Oliver and Johnny Gunner.
Honorary pallbearers; Benjamin Cecil Bohannon and Randy Wolf.