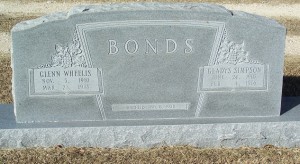 Location: K-Jay
Born: November 5,1910 McLennan County, Texas
Died: March 23, 1978 McLennan County, Texas
Parents:
Hugh King Toland Bonds (1880 – 1943)
Lizzie Simpson Bonds (1880 – 1966)
Spouse:
Gladys Jeanette Simpson Bonds (1907 – 1976)
Glenn Wheelis Bonds, 67, of 1513 Windsor died at 5:55 Thursday in a local hospital.
Funeral services will be held at 2:30 p.m. Saturday at Wilkirson-Hatch Chapel. Rev. Carl Jones & Rev. Cyrus Barcus officiating, burial in China Spring Cemetery.
Survivors; two brothers, T. J. Bonds of Waco, Andy Morris Bonds of Baytown; three nephews, Jack Ponder of Dallas, Kenneth L. Bonds of Arlington, Andy Bonds Jr of Garland; two nieces, Mrs. Arthur Lindsey of Shreveport, Mrs. Delmond Rosenkranz of Waco; sister-in-law, Mrs. Edris Simpson of China Spring.
Active pallbearers: Joe Lechler, Guy Couch, Emory McRae, Herbert Anderson, Ollie Coleman, Adrian Smith and Lonnie Simon.
Honorary pallbearers: Henry Strofegen, J.W. Curton, Jack Summerlin, Dan Wallace, Roy Davis, Nelson Woodard, Willie Markum and M. D. Grayson.