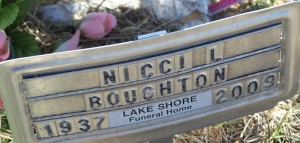 FHM only. Location: V-Eichelberger
Born: February 24, 1937 Fremont, Newaygo County, Michigan
Died: September 15, 2009 China Spring, McLennan County, Texas
Nicci (Morton) Shotwell Boughton, 72, of China Spring, passed away Tuesday, Sept. 15, 2009, at her residence. Graveside services will be 3 p.m., Friday, Sept. 18, at China Spring Cemetery with the Rev. Jim Daniels and the Rev. Ivan Ker officiating. Visitation will be 11 a.m. to 1 p.m., Friday, at Lake Shore Funeral Home in Waco.
Nicci was born in Fremont, Michigan.
Survivors include her husband, Bruce Boughton; daughters, Lorie Peebles, Linda Bergenstock, and Brandi Cartwright; sons, Joe Mac Shotwell and Neil Shotwell, Michael Boughton and Marcus Boughton; 11 grandchildren; seven great-grandchildren; three sisters; two brothers; as well as many other relatives and friends.