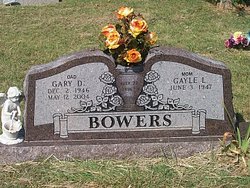 Location: W-Drahn
Born: December 2, 1946, Waco,  McLennan County, Texas
Died: May 12, 2004, Gatesville, Coryell County, Texas
Son of Garland Aaron Bowers (1916-1960, buried in Waco Memorial) and Ruby Jean Harrison Bowers.
Gary Bowers, 57, of Gatesville, formerly of China Spring, passed away Wednesday, May 12, 2004, at a Gatesville hospital.  Services will be at 10 a.m. Saturday at OakCrest Funeral Home Chapel with David Thompson officiating.  Burial will be at China Spring Cemetery. Visitation will be from 6 to 8 p.m. Friday at OakCrest Funeral Home, 4520 Bosque.
Gary was born Dec. 2, 1946, in Waco to Garland and Jean (Harrison) Bowers.  He served in the U. S. Army during the Vietnam War.
He is survived by his wife, Gayle of Gatesville; sons, Chris and Scott Bowers, both of China Spring; and grandsons, Cody and Michael Bowers of Kansas.
Gary was a loving husband, father and best friend.