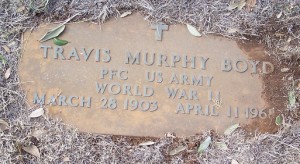 Location: S-Monroe
Born: March 28, 1903 Erath, McLennan County, Texas
Died: April 11, 1968 Waco, McLennan County, Texas
Parents:
Mark Murphy Boyd (1867 – 1956)
Caledonia Simmons Boyd (1871 – 1959)
Travis Boyd, 65, of Route 10 Waco, died at 12:40 p.m. Thursday in a local hospital.
Funeral services will be held at 2:30 p.m. Friday at Connally Chapel, Rev. Frank Bartos officiating, burial in China Spring Cemetery.
Survivors: three sisters,  Mrs. Lucy Cobbs, Mrs. J. Frank Cobbs, and Mrs. Albert Rentz, all of Waco; 10 nieces and nephews, several great nieces and nephews.
Active pallbearers: Stanley Rentz, Billy Burt, Albert Cobbs, Jr., Albert Cobbs, Jr., Billy Foster, Boyd Cobbs and Harry Finstermaker.