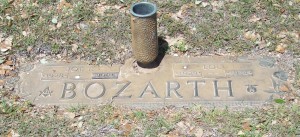 Location: V-Eichelberger
Born: August 24, 1928
Died: May 11, 2001
Son of Joe Tom Bozarth, Sr. and Ruby Jean Walker Bozarth
Parents:
Joe Tom Bozarth (1901 – 1951)
Spouse:
Mary Lou Cave Bozarth (1929 – 1974)
Joe Bozarth, 72, died May 11, 2001 at a local hospital.
Services will be at 2 p.m. Monday, May 14, 2001, at First Baptist Church of Woodway with Rev. Ken Young officiating. A Masonic graveside service will follow at China Spring Cemetery.
Joe was born August 24, 1928 in Waco. (Son of Joe Tom Bozarth and Ruby Jean Walker Bozarth).  He went to Waco High School and then moved to Galveston to live with his dad. Joe finished his education in Houston and Galveston, prior to joining the Navy serving in Hawaii. Joe left the Navy on medical discharge and established roots in Dallas. He had numerous businesses always meeting the public. In 1964, he came home to Waco to open a convenience store. Later, he went on to be in the liquor business, selling Pontiacs, a shrimp boat at Aransas Pass and finally retired from Sand and Gravel in the mid 1990's. His friends and family knew the passion he had for fishing, hunting and having a good time. He absolutely loved making folks happy and would certainly share the happiness.
Fourteen years ago after a life full of parties, Joe decided, with God's help and countless friends at AA, to party on but without the alcohol. He lived at least 14 more years because of it. He believed so strongly in "the program" and would be quick to tell you, "work the program because it works." He was afraid not to work the program. While his college work was studying counseling for substance abuse at MCC, most of his college was spent on his son at Texas A&M. He loved the Aggie spirit and was so proud to have a son, a daughter-in-law and two grandsons that would graduate from Texas A&M. Joe was a 50 year Master Mason and a member of the Shrine for over 40 years. While loving the fraternity for the fun and fellowship, he most admired the work they do for crippled children, burn victims and the widows and orphans. He was preceded in death by his first wife, Lou, in 1974.
Joe is survived by his loving wife, Dorothy; sons, Joe Bozarth III and wife Freddie, William Bozarth; two favorite aunts, Kathleen Kunz and Louise Spurgin; grandchildren, Joe Bozarth Iv and Jeff Bozarth, Meagen, Kelly and Erin Bozarth; step-daughters, Ginger Townley and  Karen Colemeco.
Joe's first cousin, Alton Pearson will be so happy to learn of the special care and attention the Hillcrest folks gave to Joe and his family.
Pallbearers will be Jim Spencer, Emmett Reed, Bill Boyd, Chuck Youts, Trent Tompkins, Steve Broussard, Henry Paine, Herb Warren, and Paul C. Ferrell.
Honorary pallbearers will be his friends at Karem Shrine.