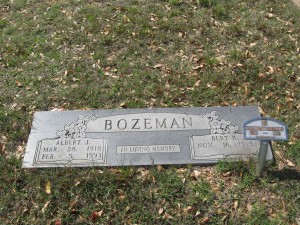 Location: V-Eichelberger
Born: November 16, 1919 New Waverly, Walker County, Texas
Died: November 19, 2008 China Spring, McLennan County, Texas
Parents:
Fred Bert Kynerd (1886 – 1963)
Annie Bell Vaughn Kynerd (1885 – 1980)
Spouses:
Garland L Valles (1917 – 1954)
Albert J Bozeman (1918 – 1993)
Children:
Deborah Bozeman (1960 – 1986)
Vicki Diane Bozeman McNeill (1961 – 1996)
Bert Valles Bozeman, 89, of China Spring, went to be with Jesus, Wednesday Nov. 19, 2008, at a local hospital. Graveside services will be 10 a.m., Saturday Nov. 22, at China Spring Cemetery with the Rev. Rick Cobb officiating. Visitation will be 6 to 8 p.m., Friday, Nov. 21, at Bellmead Funeral Home.
Bert was born in New Waverly, Texas, to the late Fred and Annie Bell (Vaughn) Kynerd. She worked as a staff supporter at the Waco Veterans Administration Hospital and was a member of the China Spring Baptist Church.
She was preceded in death by her husband, Albert J. Bozeman on Feb. 5, 1993; three sisters; and a brother.
Survivors include her daughters, Fay Hudgins and husband, Charles, of China Spring, and Carol Thacker, of Valley Mills; sons, Guy Valles and wife, Darlene, of China Spring, and David Valles, of Waco; eight grandchildren; 16 great grandchildren; and several nieces and nephews.