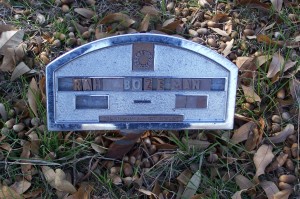 Location: V-Eichelberger
Born: December 17, 1960 Waco, McLennan County, Texas
Died: March 10, 1986 McLennan County, Texas
Daughter of Albert J. Bozeman and Bert Jerusha Kynerd Bozeman
Wife of Bruce Strey
Parents:
Albert J Bozeman (1918 – 1993)
Bert Jerusha Kynerd Bozeman (1919 – 2008)
Children:
B Jay Strey (1983 – 1998)
Mrs. Deborah Strey, 25, of China Spring died Monday at a local hospital from injuries sustained in a motorcycle accident.
Graveside services will be at 2:30 p.m. Tuesday at China Spring Cemetery, with Rev. Charles Wilson officiating.
Mrs. Strey was born Dec. 27, 1960, in Waco.  She attended schools in China Spring.  She worked for Long John Silver's Restaurant, Plantation Foods, International Inn and Georgia Steak House on Circle Road.  She also worked for Baker Packers in San Antonio and Gateway Mobile Home Park in Fayette, N.C.
Survivors include her husband: Bruce Strey of China Spring; her parents, Mr. and Mrs. Albert J. Bozeman of China Spring; a daughter, Peggy Strey of China Spring; two sons,  Raymond Bozeman and B. Jay Strey, both of China Spring; three sisters, Carol Watson and Fay Huggins, both of China Spring, and Vicki Nipp of Axtell; and two brothers, David Vallas of Salt Lake City, Utah, and Guy Vallas of Waco.