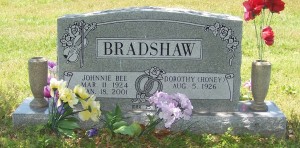 Location: I-Jackson
Born: March 11, 1924 California
Died: January 18, 2001 Temple, Bell County, Texas
Parents:
Roy J Bradshaw (1896 – 1967)
Ada Bradshaw (1905 – 1945)
Spouse:
Dorothy Honey Bradshaw (1926 – 2016)
Johnnie B. Bradshaw, 76, of Waco, passed away Jan. 18, 2001, with his family by his side at Temple VA hospital.  Services will be at 11 a.m., Monday, Jan. 22, 2001, at Calvary Assembly of God, 1208 N. Robinson Dr. (Hwy 77 at Loop 340) in Robinson, with the Rev. Russell Dixon and Randy Saffell officiating.  Burial will follow at China Spring Cemetery in China Spring with full military honors.  A reception will be from 2 to 5 p.m., at VFW No. 2148, 2148 3rd St. at Tennessee.  Visitation will be from 1 to 4 p.m., Sunday at Pecan Grove Funeral Home.
Mr. Bradshaw was born March 11, 1924, in California to Roy and Ada Bradshaw.   He was the oldest of seven children.  He attended school in Oklahoma, primarily around the Canute area.  He served during WWII for the US Army Second Division; Ninth Infantry and participated in the D-Day invasion.  Mr. Bradshaw moved to Waco in 1946 and married Dorothy Honey.  He was a retired roofing contractor.  Johnnie was know as "The Tall Left Handed Fiddle Player" and played the fiddle since the age of ten, often practicing in the middle of cotton fields and first playing at house dances.  In 1957, he formed Cent-Tex Playboys.  From 1983 to 2000, he was in Bradshaw Gang.  His mother, father and sister, Wanda Bradshaw, preceded him in death.
Survivors include his wife of 54  years, Dorothy; daughters, Adabelle "Sis" Weippert and husband Ronnie of Ridgely, Md. and Kathy Slayton and husband David of Temple; sons, Thomas R. Bradshaw and wife Gail of Fort Worth and Johnnie D. Bradshaw and wife Barbara of Waco; sister, Geneva Solar of Antioch, Calif.; brothers, Frank Bradshaw of Oceanside, Calif;, Floyd Bradshaw of Pittsburgh, Calif., James Bradshaw of Cameron Park, Calif., and Paul Bradshaw of Gardnerville, Nev.; 14 grandchildren; and two great-grandchildren.
Pallbearers and honorary pallbearers will be musicians of the central Texas area.
In lieu of flowers, Mr.  Bradshaw's last request was that you help a disabled person.  Donation may be made to the American Cancer Society.