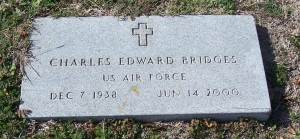 MM. Location: R-Williams
Born: December 7, 1938 McLennan County, Texas
Died: June 14, 2000 Fort Worth, Tarrant County, Texas
Parents:
William Oliver Bridges (1900 – 1972)
Oma Viola Stubblefield Bridges (1917 – 1989)
Spouse: Alice Edna Atkerson Bridges
Children:
Bruce Wayne Bridges (1962 – 1978)
Jeffrey Lynn Bridges (1968 – 1970)
Charles Edward Bridges, 61, of Azle, died June 14, 2000, at a Fort Worth hospital after a lengthy illness.
Services will be at 2 p.m. Saturday, June 17, 2000, Trinity Lighthouse Church in China Spring. Burial at China Spring Cemetery. The family will receive visitors from 6-8 p.m. Friday at the funeral home.
Mr. Bridges attended China Spring schools and served in the United States Air Force. He was the son of Mr. & Mrs. W. O. Bridges of China Spring.
He was preceded in death by three sons, Chuck, Bruce and Jeffrey Bridges.
Mr. Bridges is survived by his wife, Alice Bridges, of Azle; two sons, Greg Bridges of Waco and Stephen Bridges of South Carolina; two daughters, Lisa Davis of Waco and Amanda Bridges of Azle; a sister, Josephine Melton of Fort Worth; two brothers, Oliver Bridges of Center Point and Tommy Bridges of Fort Worth; and 11 grandchildren.