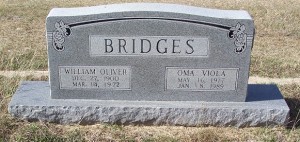 Location: R-Williams
Born: March 16, 1917 Hill County, Texas
Died: January 8, 1989 Fort Worth, Tarrant County, Texas
Parents:
William H Stubblefield (1889 – 1969)
Maggie Payne Stubblefield (1901 – 1966)
Spouse:
William Oliver Bridges (1900 – 1972)
Children:
Oliver Bridges (1936 – 2007)*
Charles Edward Bridges (1938 – 2000)
Mrs. Oma V. Bridges Morgan, 71, of Waco died Sunday at a Fort Worth hospital.
Services will be at noon today (Jan. 10, 1989) at Connally-Compton Downtown Chapel, the Rev. John Reynolds and the Rev. Curtis Holland officiating. Burial will be in China Spring Cemetery.
Mrs. Morgan was born May 16, 1917 in Hill County. She was a lifelong resident of the area and lived in China Spring the last 35 years. She was a homemaker and a former employee of the Methodist Home.
Survivors include her husband, Joe E. Morgan of Waco; a daughter, Jo Melton of Fort Worth; three sons, Oliver Bridges and Tommy Bridges, both of Comfort, and Charles Bridges of Azle; six brothers, Charles R. Stubblefield of Cranston, RI, Cecil Stubblefield and Fred Stubblefied, both of Denton, james Stubblefield of Lufkin, Wilburn Stubblefield of Duncanville and Ray Stubblefield of Modesto, CA; four sisters, Odessa German and Bessie Smith, both of Waco, Clara McDonald of San Diego, CA, and Loretta Rouchi of Florida; 12 grandchildren; and 13 great-grandchildren.