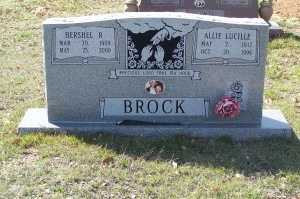 Location: V-Eichelberger
Born: March 20, 1909 China Spring, McLennan County, Texas
Death: May 23, 2000 Valley Mills, Bosque County, Texas
Son of Allen R. Brock and Mary Wilkins Brock
Spouse: Allie Lucille Graves
Children:
Linda Gail Brock Sivils (1949 – 2011)
Herschel R. Brock, 91, of Valley Mills, died Tuesday, May 23, 2000, at a local hospital.  Services will be at 2 p.m. Friday at Trinity Lighthouse Church in China Spring with Marty Merrill officiating.  Burial will follow at China Spring Cemetery.  Visitation be Thursday at Mr. Brock's residence in Valley Mills.
Mr. Brock was born March 20, 1909, in China Spring.  He was a retired truck driver and a long-time member of the Trinity Lighthouse Church.  He and Allie Graves were married June 20, 1929.
He was preceded in death by his wife, Allie Brock; his parents, Mr. and Mrs. Allen Brock; and his grandfather, Isaac Brock.
He is survived by eight daughters, Betty Allen, Lois Merritt and Helen McNamara, all of Waco.  Linda Sivils and Allie Hanna, both of Valley Mills, Mary Hamilton of Carrollton and Ann Calvert of Las Vegas; 26 grandchildren; 57 great-grandchildren; and four great-great-grandchildren.