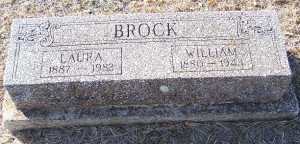 Location: I-Jackson
Born: May 24, 1887 Bosque County, Texas
Died: December 19, 1982 Bosque County, Texas
Parents:
Carl Frederick Anz (1854 – 1938)
Mary Florence Drahn Anz (____ – 1892)
Spouse:
William Layatt Brock (1880 – 1944)
Children:
Price Clifford Brock (1905 – 1985)
Myrtle Brock Roden (1909 – 1941)
Mrs. Laura Brock, 95, of Valley Mills died Saturday night in a local nursing home.
Funeral services: 2:00 p.m. Monday at First Baptist Church of Valley Mills with Minister W. R. Parmer officiating, burial in China Spring Cemetery.
Survivors: two sons, Price Brock of Valley Mills and W. J. Brock of New Braunsfel; daughter, Mrs. Bessie Tucker of Gainesville; two sisters, Mrs. Eula Seawright of Valley Mills and Mrs. Myrtle Rymer of Clifton; 6 grandchildren, nine great-grandchildren and three great-great grandchildren.