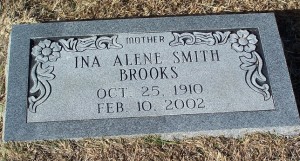 Location: L-Roberts
Born: July 16, 1910 Waco, McLennan County, Texas
Died: February 10, 2002 Nashville, Davidson County, Tennessee
Parents:
William Wallace Smith (1881 – 1966)
Verna Presnall Smith (1887 – 1985)
Ina Alene Smith Brooks died February 10, 2002, at age 91 in Nashville, TN. Alene was born Oct. 25, 1910 in Waco, Texas to Verna Presnall and William Wallace Smith. She graduated from Baylor University with a degree in English literature. She married William Kerr Brooks and lived in Texas, New York, Rhode Island and Virginia during his overseas duties as a Naval Commander. Alene live in Corpus Christi, TX from 1955-1975 and taught English literature at Roy Miller High School. She then moved to Houston and worked for Elaine Rose Studios and for the Houston Arboretum & Nature Center. She returned to Waco in 1994; she spent the last few months in Nashville, TN with her daughter.
Alene is survived by son William Randal Brooks of Farmer's Branch, TX, daughter Janet Claire Brooks of Nashville, TN; granddaughter Laurie Brooks of Houston; grandson Christopher Brooks of Spring; sisters, Verna D. Burnett of Athens and Nell Diaz of Antioch, CA; cousin Nell Olzewski of Waco; and a number of nieces, nephews, and friends, all of whom were very special to Alene.
The family would like to express their immense gratitude to life-time family friend Helen Logue Carll of Waco for her help and support and to the Harrison Stafford family of Edna, TX for their endearing friendship.
In lieu of flowers, a memorial made be made in Alene's name to the Houston Arboretum & Nature Center, 4501 Woodway Dr., Houston, TX 77024.
A memorial service will be held Saturday, February 16th, 11 a.m. at St. Alban's Episcopal Church, 305 N. 30th St., Waco with Rev. Frank Mangum presiding.